171 West Center
Moab, UT 84532
435-260-1692
171 West Center
Moab, UT 84532
435-260-1692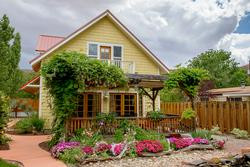 Pet Policy: We are "dog" people and understand how difficult it is to leave your friend at home. We allow one dog in Moosewood, French Quarter and Bogie's Bungalow. Our pet fee is $10/night/pet. In your cottage you will find a "Pet Package" containing a towel, waste bags and yummy treats to welcome our four legged guests.
Policy Confirmed: 12/01/2017 | Update this Pet Policy
Policy Confirmed: 12/01/2017
Pet Amenities: Food & water dishes, pet bed, towel, welcome treat, baggies to clean up after pets.
Points of Interest: Dead Horse State Park, Slick Rock Bike Trail, Colorado River, Arches National Park
Rates: Cottages: $135 -$305