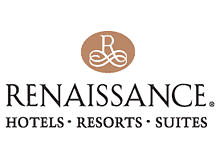 Search for a pet-friendly Renaissance Hotels in the USA
The Special Details of Renaissance Hotels
What's consistent?
Luxurious bedding complete with a designer duvet, cotton-rich linens, custom comforter, and clouds of pillows
All the hotel room technology you need: high-speed Internet, easily accessed data ports, power outlets at desk level, 2 telephones (1 cordless), and voice mail
Imaginative menus in restaurant spaces both inviting and alive
What's different?
Eye-catching hotel decor with an independent sense of style
An eye on local character, on what's special and worth exploring among nearby bars and restaurants, and what's happening in the community
All your hotel room working space essentials are built in: great lighting, a spacious desk, and comfortable, ergonomic chair
What's delightful?
Crisp, attentive, respectful service from associates schooled in the art of etiquette
Comfort, warmth, and quality in a stylish and sophisticated ambience