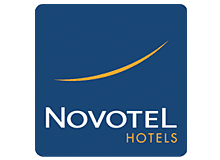 Search for a pet-friendly Hotel Novotel in the USA
Over the last 30 years, Novotel has established a reputation as the world's leading business hotel brand. They even have some pet-friendly properties in Canada (and one in New York) to ensure that discerning travellers will find the familiar logo in prime business locations, close to key transport hubs and in idyllic resort settings. They've even provided us with some tips on traveling with your pet:
1. Packing is Essential!
Don't leave home without a pet carrier, food, water (ice cubes make for neater cars!), water and food bowls, leash or harness, collar with tags, baggies for clean up and a litter box and litter (for your feline friend).
2. Check Collar I.D.!
Be sure your buddy's tags offer the most current contact information, and don't forget to bring a health certificate, current rabies vaccination tag and a photo of each pet when travelling...just in case.
3. Everyone, Buckle Up!
It's safest for your animal to be restrained, either in a pet carrier or by a secured harness. You can find seat belt adapters, car seats and cargo barriers at most leading pet retailers.
4. Ouch!
And don't forget to bring a first-aid kit with tweezers, gauze and antiseptic to treat any minor mishaps along the way.
To find a pet-friendly Novotel, just highlight a state and click on "Search".