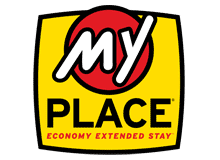 Search for a pet-friendly My Place Hotels in the USA
A new brand! My Place Hotels offers a clean, comfortable, pet friendly rooms for travelers on a budget. While other hotels include fancy extras, at My Place we are making sure that our staff is friendly, check-in is hassle-free, your room is clean, and the beds are comfortable, all at the lowest possible rate.
My Store to get what you need. My Kitchen to feel at home while you enjoy premium cable channels, or play your own movies on TV from your computer or DVD player. When you stay at My Place you'll have everything you need, and nothing you don't. At a price that is right!