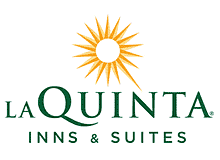 Search for a pet-friendly La Quinta in the USA
La Quinta has over 700 pet-friendly locations from coast to coast. Their pet policy (chain wide) is:



Cats and dogs are accepted in all guest rooms (unless prohibited by law).
Up to two domestic pets allowed per room.
Housekeeping services for rooms with pets require pet owner be present or pet must be crated.
No fees or deposits are required
La Quinta knows that your pets are part of the family and welcome them to their hotels. They only ask that you show consideration for other hotel guests.